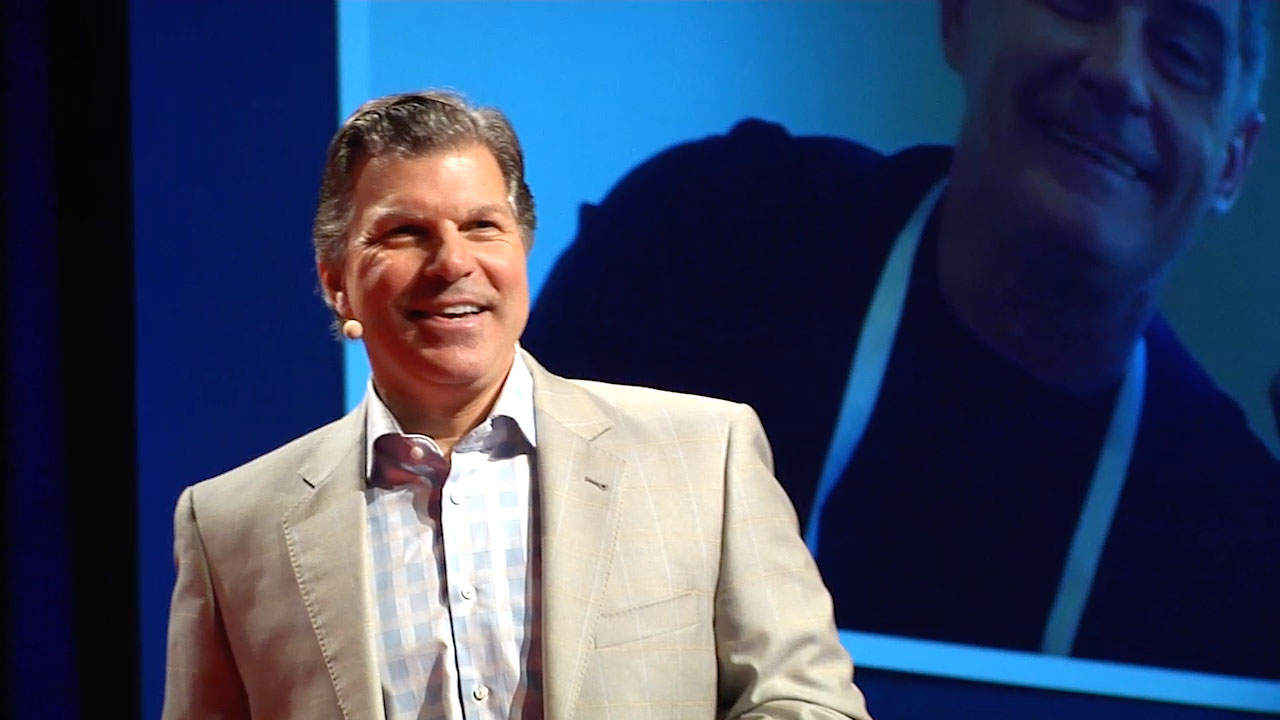 CONTACT US ABOUT BOOKING CARMINE FOR YOUR NEXT EVENT
The Storyteller's Secret: Why Some Ideas Catch On And Others Don't
Keynote Summary:
The New York Times calls storytelling "a strategic tool with irresistible power." As a communication coach for the world's most admired brands and an international bestselling author, Carmine is one of the most recognized experts on the subject of business and storytelling to help leaders sell, inspire, motivate, build brands, and change lives.
In this exciting multimedia keynote Carmine explores the art and science of storytelling in business through first person insights from leaders and legends: Richard Branson, Howard Schultz, Mark Burnett, Steve Wynn, Sheryl Sandberg, and many others. "Having facts on your side isn't enough. You have to do storytelling," say billionaire investor Vinod Khosla. "In The Storyteller's Secret, Carmine Gallo Shows you how to frame ideas to make an irresistible, memorable, and emotional connection with your audience." Learn to unleash your story—your most valuable asset and your competitive advantage.
Carmine's keynotes are customized for your audience. Here are just a few of the actionable and inspiring lessons your attendees will learn in The Storyteller's Secret keynote.
Key Points:
Why ideas that catch on are wrapped in story

The art and science of making an irresistible impression
Types of stories to: motivate, educate, simplify, inspire, and launch movements
Why stories should make up 65% of a presentation
How the world's most admired brands use storytelling to elevate the customer experience and to motivate employees
Why signature stories will set your brand apart from the competition
How Richard Branson, Howard Schultz, Sheryl Sandberg, Airbnb, Southwest, KPMG, Apple and other admired brands, and TED speakers use storytelling to enrich their products, services and ideas.
Expected Results:
Your audience will leave inspired with specific and actionable advice they can use right away to sell their ideas more effectively.
"Your keynote yesterday morning at our BHHS Summit was awesome .. and that was the unanimous feedback from our agents and leaders all afternoon and into the evening yesterday. I couldn't agree with you more .. thank you for sharing why the stories we tell are so important and empowering and why they lead to great successes."
– Gino B. CEO, HSF Affiliates LLC
Our Leadership Series yesterday was a success. The Storyteller's Secret received great feedback. Our attendees felt the topic was relevant and applicable to their daily work lives. Executive Forum is also trying to find ways to incorporate some of the ideas discussed at our next meetings and pitches! Thank's Carmine Gallo! You were fabulous.
Executive Forum
Carmine, the audience loved your session. You were gracious, memorable, clear, impassioned. and you modeled the way with a beautifully structured class.
Rena M.
Dear Carmine, Thank you for contributing to the success of NAFCU's CEOs and Senior Executives Conference. Your presentation was valuable and informative. I appreciate your efforts to ensure a quality educational experience for all delegates. Your presentation was outstanding!
Josie C.
Carmine, you hit a high note. So high, we probably broke several windows throughout the building :). You're a real pro and you did a fantastic job today!
Rick
So thrilled to be able to listen to Carmine Gallo as the keynote speaker today at Berkshire Hathaway Summit Conference. Inspiring storytelling!
Melissa Z.
Clips from The Storyteller's Secret inspired keynotes