Book Carmine Gallo For Your Event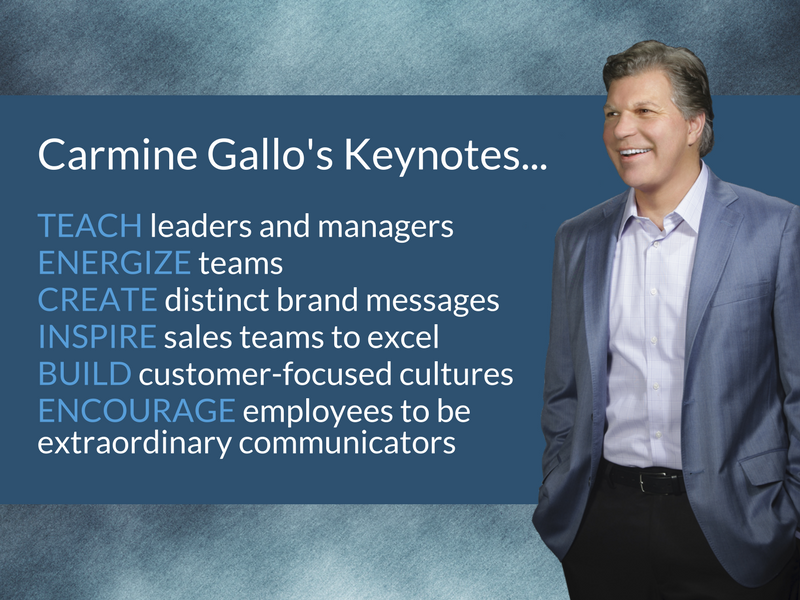 Carmine Gallo's multimedia keynotes are a hit with audiences around the world. Carmine receives outstanding reviews for his highly customized keynote presentations and earns the highest audience ratings because he leverages his experience as an award-winning journalist, studying the company or industry more thoroughly than most keynote speakers. He believes his deep-dive approach is critical to helping leaders successfully communicate their brand stories to inform, illuminate, and inspire.
Carmine's keynotes create a memorable, actionable and inspiring presentation that audiences remember for years. Carmine is exclusively represented by the BrightSight Group. To book Carmine for a speaking engagement or extended seminar, please contact:
Tom Neilssen
609-924-3060 x16
tom@brightsightgroup.com
BrightSight Group
A trusted source for thoughtful speakers
Lisa N.
Genentech
"Carmine, thanks for being a great collaborator in creating an inspiring experience for our people."
Event Organizer
Keller Williams Realty International
"Carmine was AWESOME! We absolutely loved having him at our workshop! He exceeded our expectations and our attendees are still talking about it."
Participant
Harvard, Department of Executive Education workshop
"Carmine, the audience loved your session. You were gracious, memorable, clear, impassioned, and you modeled the way with a beautifully structured class."
Beth A.
Brunswick Group, Washington, DC
"Carmine, your keynote was widely regarded as a highlight of the week. You were engaging and thoughtfully tailored the keynote to the audience. It was extremely valuable for all the partners."
Sell Dreams, Not Products: The Art and Science of Persuasion
The ability to persuasively communicate ideas to help customers achieve their dreams is one of the greatest skills any leader or business professional can develop. Carmine reveals proven and actionable strategies to sell any product, motivate any team, and grow any brand. In this keynote, Carmine shares the three components common of all inspiring business stories and explains how to use them to revamp marketing messages, improve customer service, or develop irresistible sales pitches.
3 Keys To Successful Storytelling
Pitch Your Idea in 140 Characters
Use Stories To Make Transformative Change
Our Brains Are Wired For Storytelling
The Power of Story to Sell Ideas, Grow Brands, and Engage Customers
As a communication coach for the world's most admired brands and an international bestselling author, Carmine is one of the most recognized experts on storytelling. In this inspiring keynote presentation, Carmine explores the art and science of storytelling that can help leaders sell, inspire, motivate, build brands, and change lives. Learn to unleash your story – your most valuable asset and competitive edge.
Storytelling Is Your Career Advantage
Give Your Audience The Big Picture
Great Presenters Are Made Not Born
Talk Like TED: The 3 Unbreakable Laws of Persuasion
This inspiring and actionable keynote is based on Carmine's international bestseller, Talk Like TED, where he reveals the 9 public-speaking secrets of the world's top minds. Gallo has spent his career coaching and interviewing the world's most inspiring leaders. Gallo supports each technique in this keynote with stories, videos, and the latest science of persuasion. The keynote is highly customized to the industry and audience members will walk away with specific, actionable tools they can use immediately to sell their ideas far more effectively than they ever imagined.
Make your presentation memorable
Sell Dreams, Not Products
From Apple to Zappos, Secrets to Building 'Insanely Great' Customer Service Cultures
Based on his bestselling book The Apple Experience: Secrets to Building Insanely Great Customer Loyalty, and drawing from his extensive consulting with some of the world's greatest companies, Carmine helps define how to communicate with customers – to create magical experiences that inspire them to return again and again.
Create A Magical Customer Experience
The 10 feet in 10 seconds rule to welcome customers
Contact us to book Carmine for a speaking engagement