EMBRACE YOUR STORY
CHANGE YOUR FUTURE
with Carmine Gallo
Communication Coach for the world's most admired brands
BOOK A KEYNOTE
Inspire your audience.
Motivate your team.
PRESS
Book news and interviews with Carmine
REQUEST ADVISING
Master storytelling.
Build your brand.
TALKING LEADERSHIP BLOG
Carmine's Leadership Blog
BODY LANGUAGE
Build your confidence.
Schedule an analysis today.
ARTICLES
Forbes.com, Entrepreneur, Inc.com and more…
"Ideas are the currency of the 21st century. Your ability to persuasively champion your ideas is the single greatest skill that will give you a competitive edge." – Carmine Gallo
CARMINE GALLO is a three-time Wall Street Journal bestselling author, internationally popular keynote speaker, Harvard instructor, and communication advisor for the world's most admired brands. A "communications guru," according to Publishers Weekly, Gallo's books have been translated into more than 30 languages. He delivers highly customized, engaging, inspiring, and actionable multimedia keynotes based on his international bestsellers: Talk Like TED, The Presentation Secrets of Steve Jobs, and The Storyteller's Secret, among others. In June, 2018, Macmillan/St. Martin's Press will publish Gallo's ninth book, Five Stars: The Communication Secrets to Get from Good to Great. In his book, Gallo argues that good isn't good enough in the age of ideas. As the combined forces of globalization, artificial intelligence and automation disrupt every field and every career, the persuaders are irreplaceable and irresistible.
Gallo's books have been endorsed by billionaire CEOs such as Howard Schultz, Vinod Khosla and Marc Benioff. Gallo is one of the most influential voices in communication, business and leadership and has been featured in The New York Times and Success Magazine as well as on MSNBC, CNBC, CNN, and ABC's 20/20. Gallo has built a reputation for transforming leaders into powerful storytellers and communicators at the world's largest and most admired brands including: Accenture, Allstate, Apple, Berkshire Hathaway Home Services, Chevron, Coca-Cola, Google, HCA Health, Intel, LinkedIn, McKinsey, Medtronic, Microsoft, Pfizer, Walmart, and many others. Carmine Gallo is an instructor of storytelling and communication at Harvard University. He also writes popular columns for Forbes.com and Inc.com.
Gallo is an instructor in the office of executive education at the Harvard University School of Design. He has played a role in shaping the message behind products and brands that touch your life everyday. He also writes columns for Forbes.com, Entrepreneur, Business Insider, and Inc.com.
Business Leaders Endorse Carmine Gallo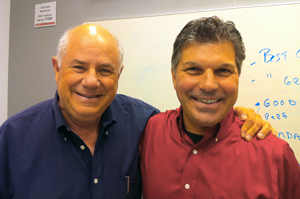 Eli Harari
Founder and Retired Chairman and CEO of SanDisk Corporation
"I came to trust Carmine's exceptional communications skills… Over time it proved an invaluable element in building our management credibility and brand awareness among the investment community. Carmine is a different breed, a true partner, and a valued member of the senior management team. I whole-heartedly recommend him."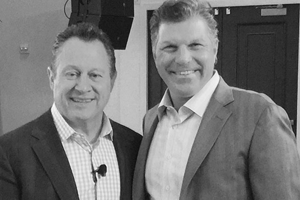 Gino Blefari
CEO, Chief Executive Officer, HSF Affiliates LLC
"Your keynote yesterday morning at our BHHS Summit was awesome…and that was the unanimous feedback from our agents and leaders all afternoon and into the evening yesterday. I couldn't agree with them more… thank you for sharing why the stories we tell are so important and empowering and why they lead to great success."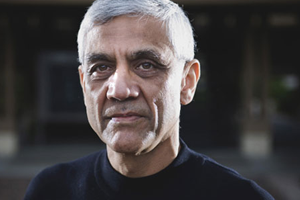 Vinod Khosla
Founder, Khosla Ventures
"Having facts on your side isn't enough. You have to do storytelling. In The Storyteller's Secret, Carmine Gallo shows you how to frame ideas to make an irresistible, memorable, and emotional connection with your audience."
Barbara Corcoran
Investor, host, ABC's Shark Tank
"I wish that 10 Simple Secrets had been available when I was just starting as a real estate agent in New York. It would have shaved years off my learning curve as a public speaker. Carmine's book is a must-read for service professionals, CEOs, managers or anyone who needs to persuade for a living."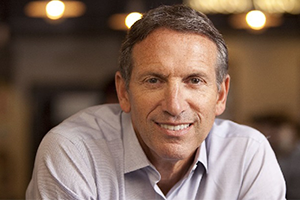 Howard Schultz
former CEO, Starbucks
"If you want to inspire your audiences, read 10 Simple Secrets. Take your presentations to the next level with Carmine as your coach."
Daniel Pink
Bestselling author of TO SELL IS HUMAN and DRIVE
"Talk Like TED is a smart, practical book that will teach you how to give a kick-butt presentation. Gallo goes deeper than mere instruction. This book is ultimately about discovering what moves you and then creating the means of moving others with our vision."
"Carmine Gallo has built a career sharing secrets we can all learn from." – ABC's 20/20
"Master Raconteur" – Worth Magazine
"Carmine Gallo is the man top executives turn to when they want to speak up and be heard." – CNBC
"Communications guru" – Publishers Weekly
"A motivational master" – Kirkus Book Reviews
"Carmine's books are what the rich are reading."- J.P. Morgan
12 years ago, Brad Gray left a family business to pursue his passion to be a church pastor. In this video, pastor Brad Gray thanks Carmine for writing "game-changing books" that changed the trajectory of his life.
Contact Us
We can help you take your presentations, conferences, trade shows, special events, sales meetings, or media appearances to the next level. Contact us for more information.
Storytelling took center stage at Sunday's Golden Globes when Oprah Winfrey gave an inspiring speech as she accepted the Cecil B. DeMille Award. Even if you didn't watch it live, you've probably heard about it because it's become a social media sensation...
read more
Popular Books from Carmine Gallo