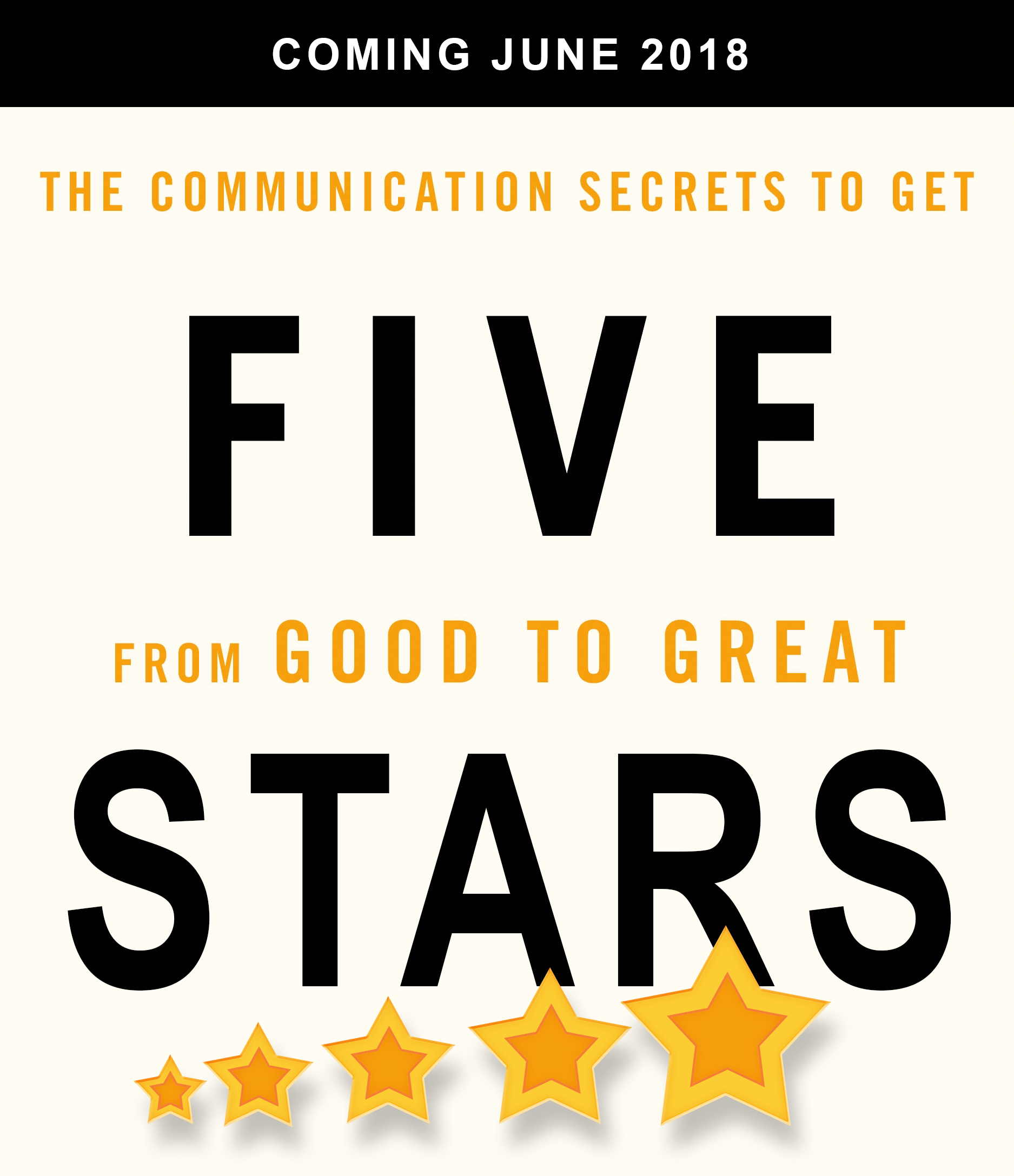 Five Stars
The Communication Secrets to Get from Good to Great
Ideas don't sell themselves. As the forces of globalization, automation, and artificial intelligence combine to disrupt every field career, having a good idea isn't good enough. Mastering the ancient art of persuasion is the key to standing out, getting ahead, and achieving greatness in the modern world. Communication is no longer a "soft" skill—it is the human edge that will make you unstoppable, irresistible, and irreplaceable—earning you that perfect rating, that fifth star.
COMING JUNE 2018
In the ground-breaking book, Five Stars, Carmine Gallo, the bestselling author of Talk Like TED, The Presentation Secrets of Steve Jobs, and The Storyteller's Secret, interviews neuroscientists, economists, historians, billionaires and business leaders. Readers will hear from leaders at Google, Microsoft, Nike, PepsiCo, Apple, Airbnb and many other admired brands. They will learn valuable lessons from scientists like Neil deGrasse Tyson, Navy SEAL commanders, NASA astronauts and venture capitalists who funded companies that are transforming every aspect of your life. Gallo has spoken to scholars, writers, adventurers, explorers, and trailblazers who use their words to captivate our imagination and ignite our dreams.
In the knowledge age—the information economy—you are only as valuable as your ideas. Five Stars is a book to help you bridge the gap from mediocre performance to being unstoppable, irresistible and irreplaceable.
Five Stars is your competitive edge in the age of automation.
Five Stars will teach you:





The one skill billionaire Warren Buffett says will raise your value by 50 percent.
How to hook your audience with words that trigger a rush of neural activity.
Why 75 percent or more of your income may rely on your ability to sells your ideas.
Why a global consulting firm rejects 99 percent of all who apply and how the few get hired.
The one brain hack Steve Jobs, Leonardo da Vinci, and Picasso used to unlock their best ideas.
The very nature of work is changing, and so are the skills required to succeed in one of the most transformative moments in history. No matter what form technology takes in the future, communication skills become more valuable, and not less. In the next decade, your ideas—and the ability to articulate those ideas successfully—will count more than ever. The good news is that standing out through persuasion requires emotional contagion between two humans, a skill that 'artificial' intelligence cannot replace. Machines don't have a heart; people do.
Five Stars is for those who believe that their ideas matter. Master these skills and no computer will replace you and no competitor will outsell you. Five Stars is your competitive edge in a winner-take-all society where persuasion plays an increasingly critical role in building a career. In the knowledge age—the information economy— you are only as valuable as your ideas. Developing original ideas and communicating those ideas effectively is the single greatest skill that will help you win a job, raise money, sell products, lead companies, build brands, rally evangelists and trigger movements.