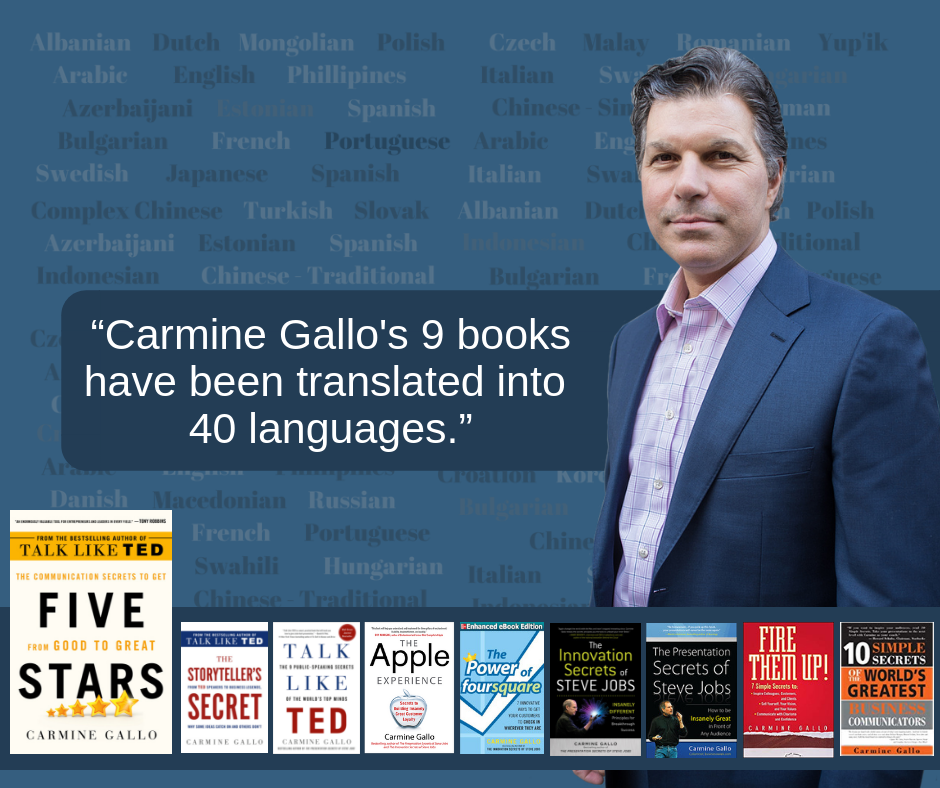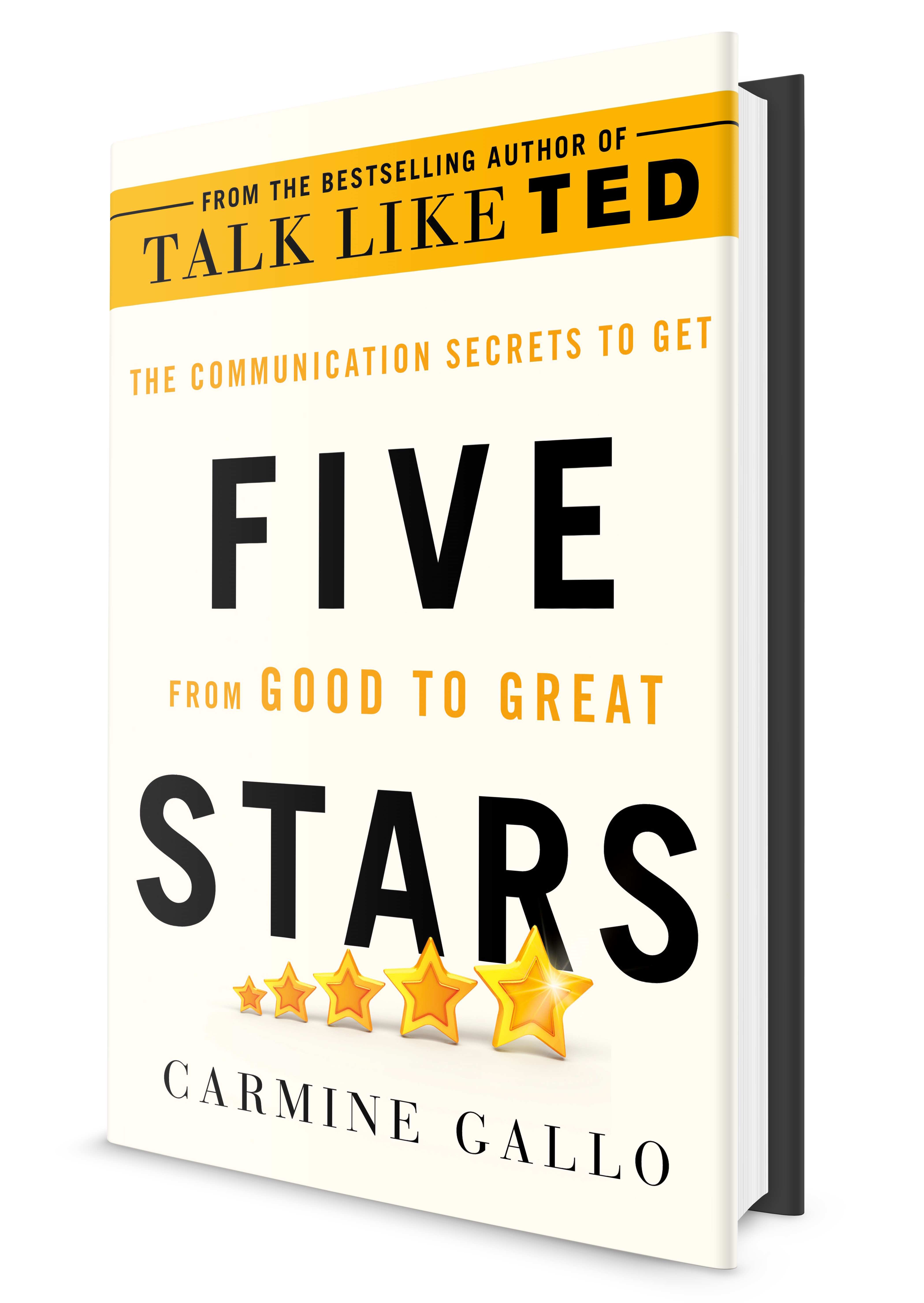 FIVE STARS
The Communication Secrets To Get From Good To Great
Ideas don't sell themselves. As the forces of globalization, automation, and artificial intelligence combine to disrupt every field and every career, having a good idea isn't good enough. Mastering the ancient art of persuasion is the key to standing out, getting ahead, and achieving greatness in the modern world. Communication is no longer a "soft" skill—it is the human edge that will make you unstoppable, irresistible, and irreplaceable—earning you that perfect rating, that fifth star.
In Five Stars, Carmine Gallo, bestselling author of Talk Like TED, The Presentation Secrets of Steve Jobs, and The Storyteller's Secret, reveals how Aristotle's ancient formula of persuasion holds the key to inspiring contemporary audiences, building brands, engaging employees, selling ideas and attracting loyal customers. At a time when technology is leading to the fastest changes civilization has ever seen, disrupting every company and every career, communication skills become more valuable—not less. Gallo interviews neuroscientists, economists, historians, billionaires, and business leaders of companies like Google, Nike, and Airbnb to show first-hand how they use their words to captivate your imagination and ignite your dreams. Gallo spoke to scholars, writers, adventurers and explorers, Navy SEALS and NASA astronauts, famous scientists and famous trailblazers.
Their insights will catapult your career, transform your company, and change your life.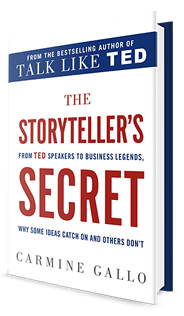 THE STORYTELLER'S SECRET
From TED Speakers To Business Legends, Why Some Ideas Catch On And Others Don't
In an age where robots and automation are displacing humans in nearly every function, one human skill remains irreplaceable: storytelling.
In The Storyteller's Secret: From TED Speakers to Business Legends, Why Some Ideas Catch on and Others Don't (St. Martin's Press), bestselling author and communication expert Carmine Gallo explains why storytelling and its power to build emotional connections is increasingly valued in today's workforce and is helping brands change hearts and minds.
Carmine Gallo's bestselling book is influencing global leaders at some of the world's largest and most admired brands. It triggered Accenture to hire a Chief Storytelling Officer. Chief storytellers are now leading change at Google, SAP, Genentech, Microsoft, Unilever, and KPMG, among many others. If these brands leverage the power of story, shouldn't you be?
Ideas that catch on are wrapped in story and each chapter of The Storyteller's Secret is wrapped in the story of entrepreneurs (Richard Branson, Steve Jobs, Sheryl Sandberg, Sara Blakely), brands (Southwest, Virgin, Apple, Whole Foods), leaders (Joel Osteen, Howard Schultz, Bill Gates, Pope Francis) and TED Speakers (Bryan Stevenson, Bono, Ken Robinson, Sting) who use storytelling to drive change.
Stories inform, illuminate and inspire. Learn to share yours today.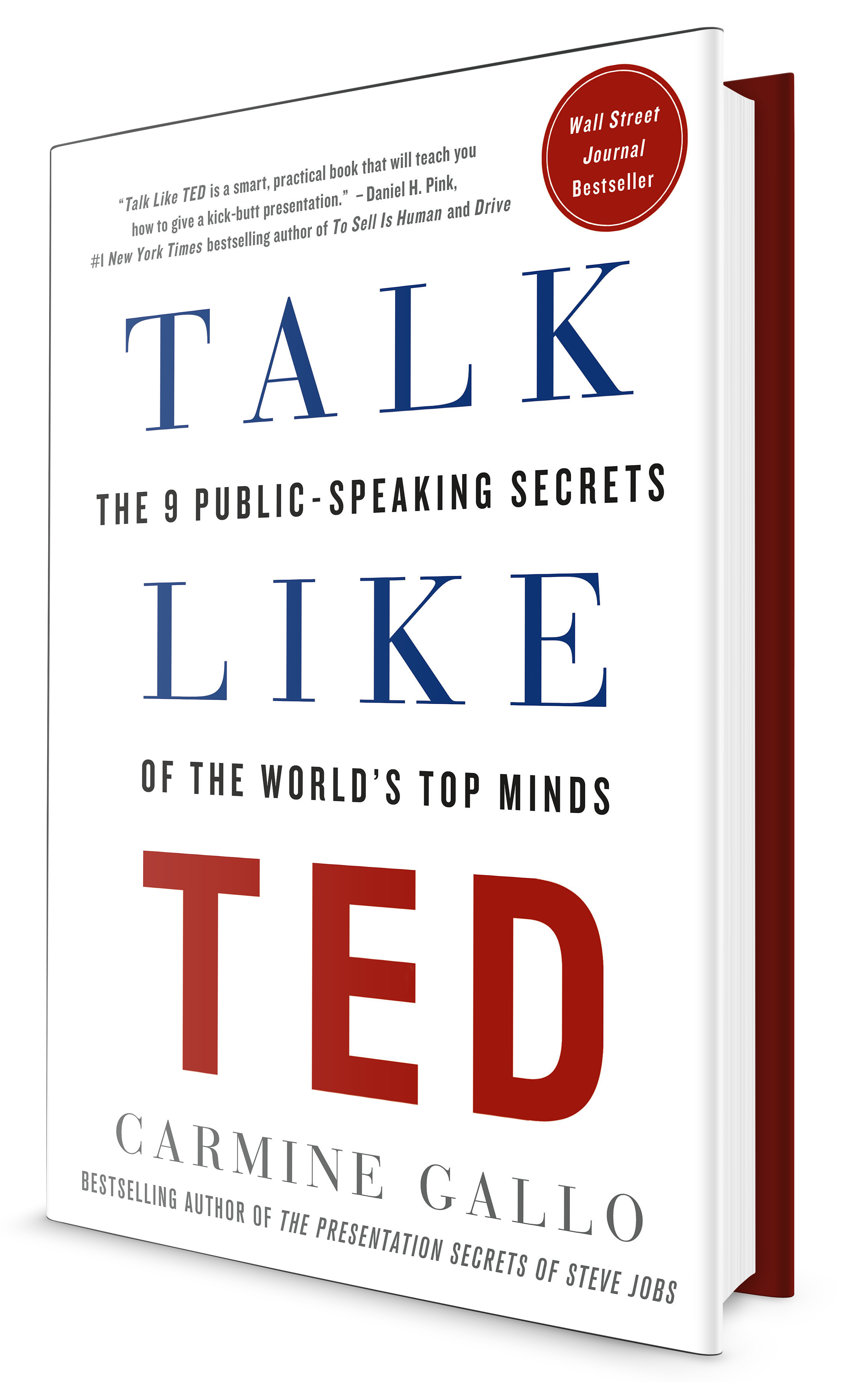 Talk Like TED
The 9 Public-Speaking Secrets of the World's Top Minds
Ideas are the currency of the twenty-first century.
The ability to persuasively sell your ideas is the single greatest skill that will help you accomplish your dreams and live up to your full potential. TED conferences host the world's most fascinating thinkers and doers. TED talks have launched movements, increased awareness and raised funds for worthy causes redefining the elements of a successful presentation. With more than one billion views, TED talks have set the world on fire and have become the gold standard of presentations.
In his book, Carmine Gallo has broken down hundreds of TED talks and interviewed the most popular TED presenters, as well as the top researchers in the fields of psychology, communication, and neuroscience to reveal the nine secrets of all successful TED presentations. Gallo's step-by-step method makes it possible for anyone to deliver a presentation that is engaging, persuasive, and memorable.
Carmine Gallo's top 10 Wall Street Journal Bestseller Talk Like TED will give anyone who is insecure about their public speaking abilities the tools to communicate the ideas that matter most to them, the skill to win over hearts and minds, and the confidence to deliver the talk of their lives.
The opinions expressed by Carmine Gallo in TALK LIKE TED are his own. His books are not endorsed, sponsored or authorized by TED Conferences, LLC or its affiliates.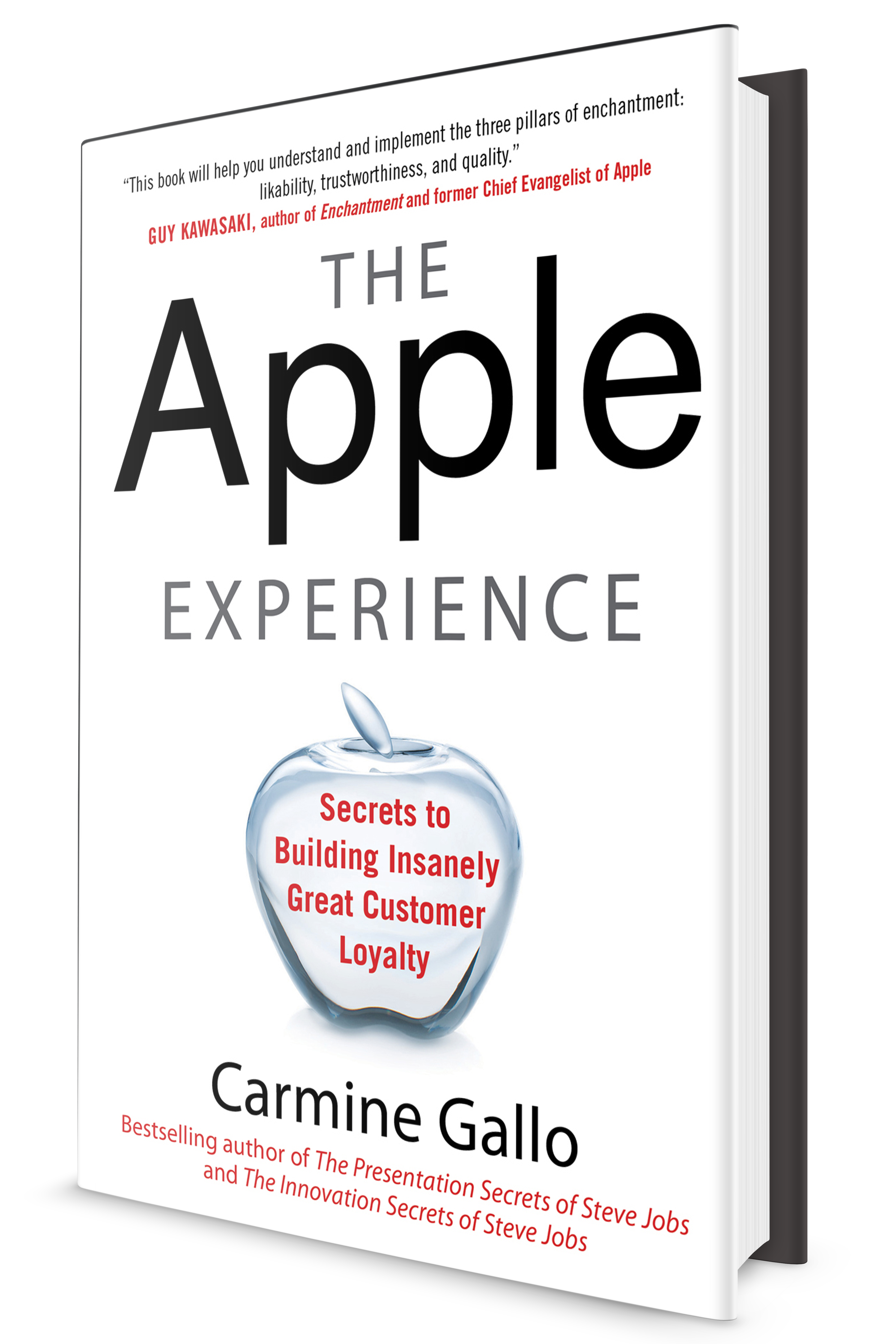 THE APPLE EXPERIENCE
Secrets to Building Insanely Great Customer Loyalty
The Apple Store has redefined the customer experience. Today Apple Retail boasts the highest profits per square foot of any retailer in the world. It has also served a model—the gold standard—for businesses across a wide variety of categories.
The Apple Experience is the first book to lift the curtain behind Apple's stunning success in the area of customer service and to show anyone how to run any business the Apple way. Carmine Gallo, author of the international bestsellers The Presentation Secrets of Steve Jobs and The Innovation Secrets of Steve Jobs, spent years researching Apple, interviewing former Apple executives, and also interviewing the founders and leaders of other customer service champions including: Virgin, Zappos, Southwest, The Ritz-Carlton, The Four Seasons, Disney, Starbucks, BMW, and many others.
The Apple Experience is for anyone who is serious about reimagining the customer experience because, at its core, this experience is not about Apple. It's about the soul of Apple—its people, and how they are hired, trained, and taught to create wow moments for every customer every time.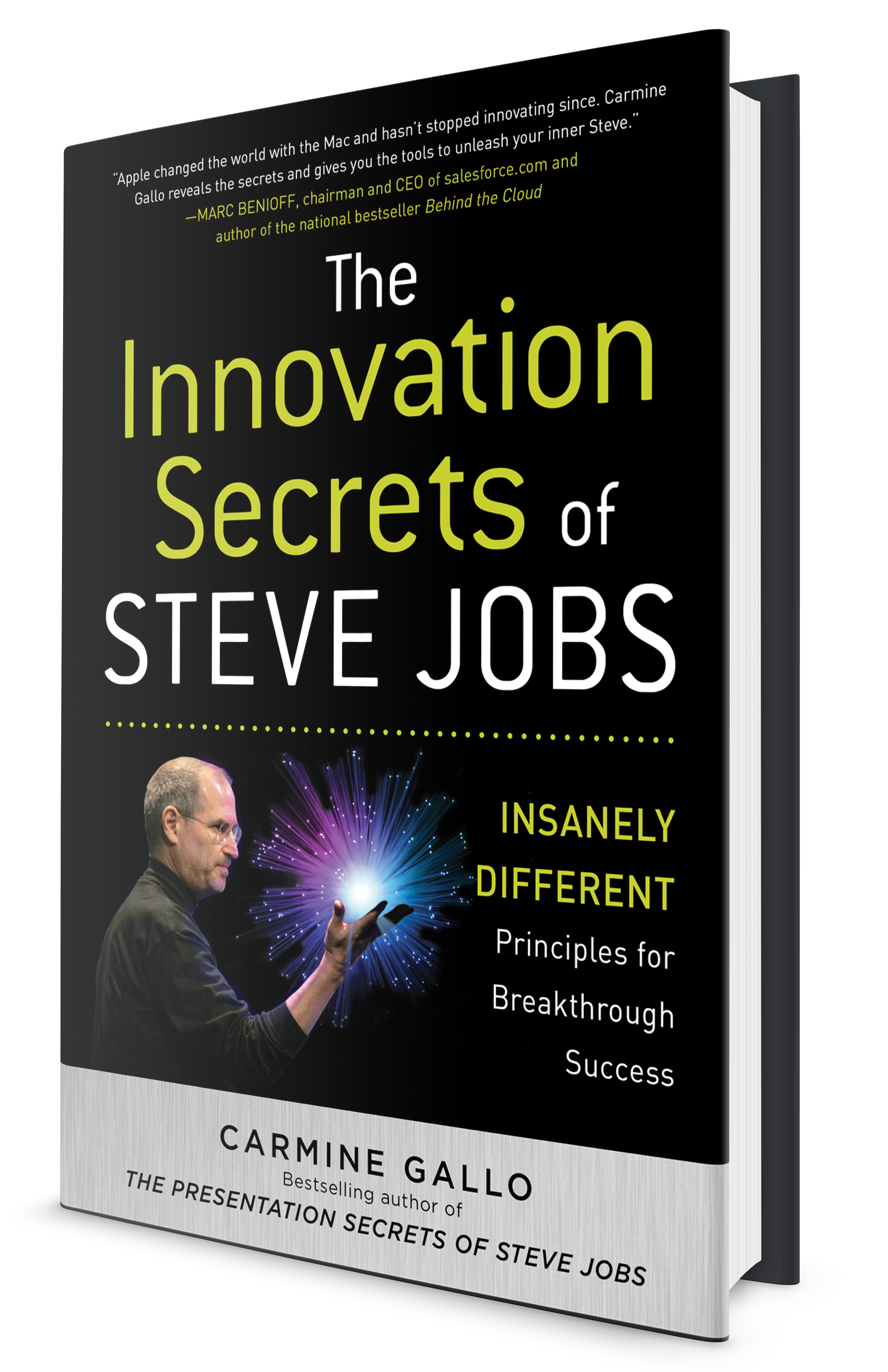 THE INNOVATION SECRETS OF STEVE JOBS
Insanely Different Principles for Breakthrough Success
The 7 principles of success that Carmine Gallo reveals in The Innovation Secrets of Steve Jobs was the subject of a segment on the ABC News program 20/20 with Chris Cuomo and Deborah Roberts. Since then brands such as Disney,Tesla, BMW, AT&T, Microsoft and many others have adopted the principles which made Apple and its products iconic in the hearts and minds of consumers.
For Steve Jobs, Apple's slogan "Think Different" was more than a marketing tool. It was a way of life—a powerful, positive, game-changing approach to innovation that you can use to unlock our creative potential, turn your passions and ideas into revolutionary products, and captivate your customers by doing what you love. These innovation secrets, like Steve Jobs himself, will continue to inspire, challenge, and motivate us all for generations to come.
Learn to rethink your business, reinvent your products, and reimagine your vision of your success—the Steve Jobs way. Here's what billionaires, entrepreneurs, and business leaders are saying about Carmine Gallo's The Innovation Secrets of Steve Jobs.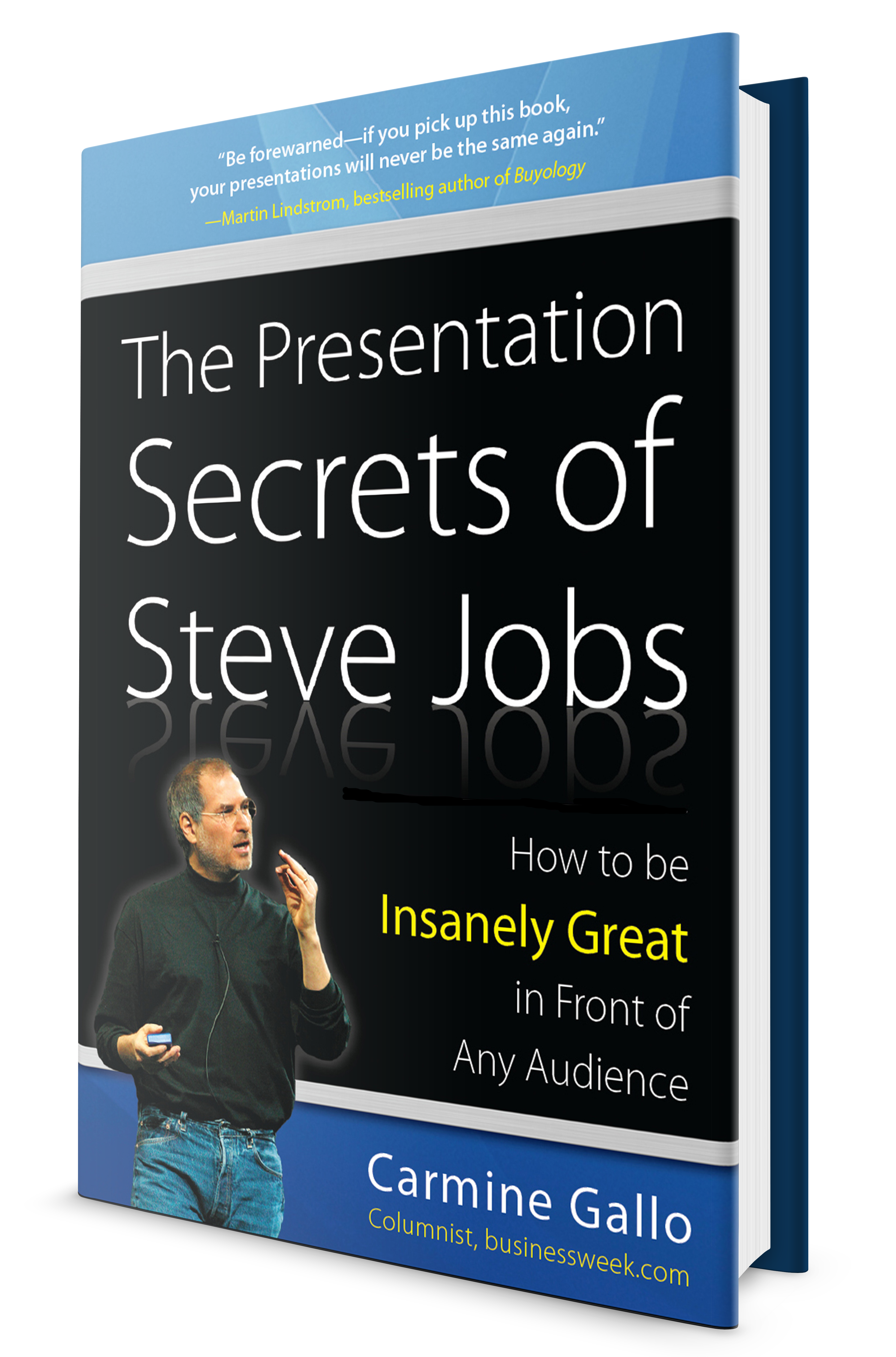 THE PRESENTATION SECRETS OF STEVE JOBS
How to Be Insanely Great in Front of Any Audience
Steve Jobs transformed business presentations into an art form. Ask business professionals anywhere in the world to describe the "Steve Jobs style" and most will have an answer. It's irresistible, entertaining, and engaging.
Today Mark Zuckerberg, Elon Musk, Marc Benioff, Former Ford CEO Alan Mulally, Alibaba founder Jack Ma, and many other leaders around the world emulate the presentation style Steve Jobs made famous, and the one Carmine Gallo popularized in his Wall Street Journal bestseller, The Presentation Secrets of Steve Jobs—one of the most popular public-speaking books in the world and recently classified as "a business classic."
Now you can learn the exact techniques that made Jobs the most captivating storyteller on the business stage. In The Presentation Secrets of Steve Jobs Carmine Gallo maps out a ready-to-use framework to help you plan, deliver and refine the best presentation of your life. One major construction company scored an $875 million contract after converting its boring old presentation into a dynamic one that copied every technique revealed in the book.
Upon publication of the book, one of the top five executives at Apple told Carmine, "You nailed it." Now you can, too. With The Presentation Secrets of Steve Jobs, you can take charge of any room, sell products, build brands, engage teams, and convey your ideas more persuasively than you ever imagined possible. Best of all, you'll blow away the competition, turning prospects into clients and clients into evangelists for your brand. Once you start using these techniques in your own presentations, you'll be hard to forget.