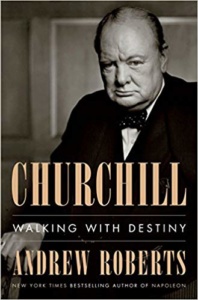 Winston Churchill delivered five million words in his public speeches. In the New York Times bestseller, Churchill: Walking with Destiny, author Andrew Roberts says Churchill's rhetorical skills were the key to winning people's hearts.
Although Churchill had become Britain's Prime Minister at the age of 65, he had been studying persuasion and public-speaking for more than forty years. As a 23-year-old, Churchill wrote 'The Scaffolding of Rhetoric,' an article about rhetoric. "Of all the talents bestowed upon men, none is more precious as the gift of oratory," Churchill wrote.
Churchill identified five elements of great public-speaking, each of which is thoroughly covered in Roberts's book.
1). Use the best possible word. Churchill replaced long words with short ones. He selected each word carefully, too. For example, in one speech he said, "If we fail, then the whole world, including the United States…will sink in to the abyss of a new Dark Age." Churchill knew his speeches would be broadcast and read in America, and he realized that his job was to help Britain survive until the U.S. entered the war. Each word had meaning.
2). Pay attention to the sound of a sentence. According to Roberts, "The nation knew it was being led, and vigorously, and liked the fact." Churchill used stirring language and poetic speeches "which sounded far more formidable, with their growls and pregnant pauses, than is evident from the printed page."
3). Make a steady accumulation of argument. Churchill's speeches were master works of persuasive reasoning.
4). Use analogies. Churchill would often compare the situation England found itself in during World War II with historical events and heroes that most citizens had learned in school. Historical comparisons were mean to "instruct, inform and inspire."
5). Connect to emotions. Churchill used expressions and words to give people hope and boost their morale as Nazi warplanes bombed English towns and cities. When Churchill caught one of his generals using the phrase 'Hitler's European Fortress,' Churchill turned to him and anger and said, "Never use that term again." Churchill replaced the emergency message to "Stay put (American slang) for the English expression, "Stand firm." According to Roberts, Churchill was "acutely aware" of words and their emotional impact.
From May to July, 1940, Churchill made about half dozen speeches which inspired the British people to fight against Hitler's army. Roberts make the compelling case that Churchill's rhetoric didn't the "win" the war as much as it kept England in the war until America got involved. "The battles he won saved liberty."
Churchill's rhetoric changed public opinion from one of 'appeasement,' (making a deal with Hitler) to vowing to fight Nazi Germany until the end. Churchill's bodyguard, a former squadron leader in the royal air force, remarked, "After those speeches, we wanted the Germans to come."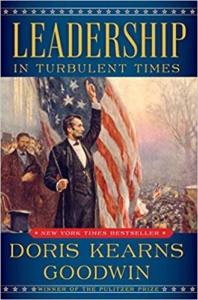 Another book that's stayed near the top of the bestseller lists for weeks now is Leadership in Turbulent Times by Doris Kearns Goodwin. Goodwin's book traces the lives and events of four transformative U.S. presidents: Abraham Lincoln, Teddy Roosevelt, Franklin Delano Roosevelt, and Lyndon B. Johnson.  I wrote about the book and Lincoln's mastery of storytelling in this column.
Goodwin explains that both Lincoln and FDR became great communicators because they worked at it, steadily improving their skills. FDR joined the debate club in school. He learned to speak without notes. He learned persuasive reasoning and how to "connect emotionally with his audience."
FDR's education in public speaking continued as he campaigned for political offices. "In the course of delivering nearly eight hundred speeches, he polished the ease of his delivery, speaking so simply and directly, one reporter noted, that he managed to keep the driest of subjects from seeming heavy."
FDR had mastered the art of communicating in simple language.  When took office in 1933, the nation was gripped by a bank panic. The banks couldn't keep up with the withdrawals. FDR studied the situation and spent weeks editing and rehearsing his message. Above all, he "demystified" the language of the Treasury so every American could understand it.
Both of these books are popular gift books for the 2018 holiday season. But if you do get them as gifts, consider buying two copies–one for yourself. What you say and how you say it can strengthen your influence. In these books, you'll be learning from the best.